Save Time and Space with a Vibratory Combo Finisher/Dryer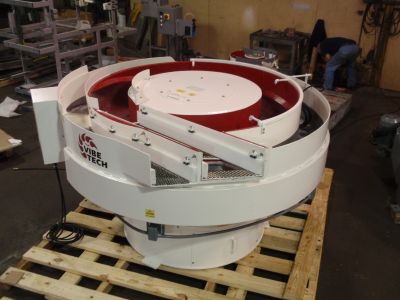 If you're looking for ways to cut costs and make the most out of your floor space, a combination finisher/dryer is an ideal solution. Built to incorporate the functions of both machines, combo finishers let you dedicate your facility's precious space to other, more profitable tasks. In addition to this, they can be customized to include a number of additions that further reduce your dependence on other machines. In this post, we're going to take a closer look at the advantages of using a combination vibratory finisher/dryer from CLM Vibetech.
1. Highly customizable
Available with a number of options, such as pneumatic gates, automated unload, screen deck options such as rinse bars and air knives, waste water options, and noise and dust covers / collection, our combination vibratory finishers can be tailored to the needs of your production line.
2. Cool-down timer
A built in cool-down timer allows our combo machines to run while cooling at the end of cycle. This eliminates scorching and cobb deterioration, resulting in a longer life for your media and higher quality part finisher, that ensures your products leave the line ready for client inspection.
3. Off-the-shelf components
By utilizing off-the-shelf components in our vibratory finishers, we make maintenance fast and easy. Without needing to source custom parts, your finisher can be serviced in a fraction of the time and, more importantly, you can avoid costly downtime.
At CLM Vibetech, we are committed to using the industry's best components and standardized parts to create vibratory finishers that are of the highest quality. Additionally, we focus on utilizing easily-sourced parts that prevent shutdowns and preserve the uptime of our clients' production lines. Since 1996, we've helped countless companies optimize their processes and improve their production capabilities. If you've been looking for a dedicated source for your vibratory finishing needs, contact us today to learn more about our machines, our history and our capabilities.