Repeatable Deburring, Smoothing and Finishing in a Range of Industries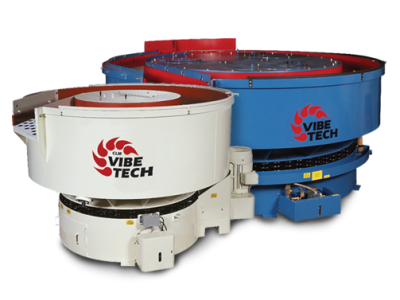 A number of industries rely on vibratory finishing equipment to create smooth, shiny finishes. In most cases, however, there is a factor that is even more important than achieving a quality finish… repeatability. Repeatability allows a manufacturer to produce the same finish over and over, ensuring that every product receives the same attention. This results in dependability, as customers can rely on the manufacturer's products to perform similarly regardless of lot number, batch number or purchasing location. In this post, we're going to look at a few of the industries that rely on equipment from CLM Vibetech to produce high quality, repeatable finishes.
Ammunition
Consistency in ammunition is essential to proper firing. Whether you need to finish a few buckets full of casings or entire truckloads, vibratory finishers can ensure that your casings receive the repeatable level of shining and deburring that they require. Automated processes help ensure repeatability through specific timing, compound dosing, and unload times. In most cases, ammunition requires a very specific recipe done the same way again and again. Vibratory finishers, material handling, Rotary Drum dryers, and automation create for a perfect machinery cell to finish your ammunition.
Industrial components
From bearings and springs to motors and hydraulic components, thoroughly deburred industrial components is critical. By creating consistent, repeatable finishes, vibratory finishers help to ensure that industrial machinery operates smoothly and dependably. Most industrial component manufacturers sell parts all over the world and because of this they need their parts to be the same quality every time so that they are not dealing with warranty issues around the globe. When using mass finishing you help ensure that all of your parts get the same treatment. You help eliminate the possibility of poor workmanship from employee to employee. Great employees turn out great parts, but not everyone has the luxury of having all great employees. Now you can have your best employees stay working on the things that make you money and have the equipment do the rest.
Medical components
No industry requires more thorough, rigorous finishing requirements than the medical industry. Because of their adaptability, vibratory finishers allow for both gentle and aggressive settings. As a result, they can be used for both fast burr removal and accelerated smoothing and, ultimately, achieve the finish that most medical components require. Also the regulatory demands of the medical industry mean that the only way to achieve the consistency is through mass finishing of some kind. Automation works well for this industry when integrating a vibratory finishing work cell. Consistency and automation are key to turn out the parts needed in this industry.

At CLM Vibetech, we manufacture the industry's most reliable, rugged vibratory finishing machines. Insisting on utilizing only standard, high quality parts, our machines aren't just built to do the job right… they're built to do the job right for a long, long time. Whether you require the ability to work in large batches, achieve high shine finishes or utilize different types of finishing media, we will work with you to supply exactly the equipment that you need.